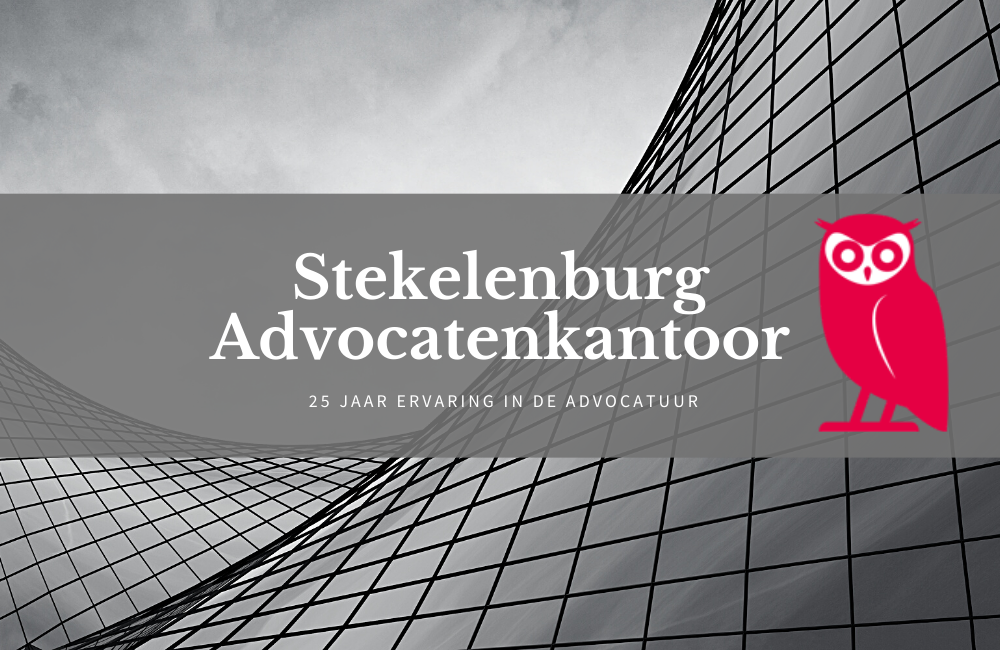 Mr. Ron Stekelenburg: "Ik wil het beste resultaat voor mijn cliënten. Mijn jarenlange juridische ervaring combineer ik met een praktische aanpak. Hierbij is een goede samenwerking tussen advocaat en cliënt essentieel."
Heeft u een juridisch geschil of vraagstuk?
Juridische problemen zijn helaas niet altijd te vermijden. Bij Stekelenburg Advocatenkantoor kunt u terecht wanneer u te maken hebt met een juridisch geschil. Ons kantoor kan een gerechtelijke procedure voor u of uw bedrijf voeren. Ook als u juridische vragen heeft, kunt u bij ons kantoor terecht. Bijvoorbeeld voor het opstellen en controleren van contracten of ter ondersteuning van uw HR-afdeling of uw Sales-afdeling.
Stekelenburg Advocatenkantoor is een algemene rechtspraktijk met zeer veel ervaring in arbeidsrecht, vastgoedrecht en ICT-recht. Onze manier van werken is gebaseerd op meer dan 25 jaar ervaring in de advocatuur. Daarbij heeft Stekelenburg jarenlange ervaring in het bedrijfsleven. De combinatie van juridische ervaring en kennis van het bedrijfsleven zorgt voor een praktische aanpak.
Deze aanpak werkt meestal beter dan strikt te kijken naar de juridische kant. Bovendien bespaart deze manier van werken vaak tijd en kosten!
Stekelenburg Advocatenkantoor is een bewust klein advocatenkantoor voor bedrijven, organisaties en particulieren. Zo bieden wij voor het Midden- en Kleinbedrijf (MKB) uitstekende juridische ondersteuning. Bijvoorbeeld voor incasso's, arbeidskwesties of huurovereenkomsten.
Voorkom juridische problemen en escalatie
Juist de tijdige inzet van een advocaat voorkomt vaak juridische problemen en verdere escalatie. Aarzelt u niet uw vraag aan ons voor te leggen. Ons kantoor biedt ondersteuning in civielrechtelijke kwesties, dus voor burgers en bedrijven in hun onderlinge verhouding(en).
Zoekt u een advocaat?
Neem dan vrijblijvend contact op met Ron Stekelenburg en informeer naar de mogelijkheden!
Onze benadering
• een persoonlijke benadering
• rechtstreeks contact met uw advocaat
• uw advocaat behandelt uw zaak en geen andere minder ervaren kantoormedewerker
• het belang van de cliënt staat voorop: soms gaat het puur om een financiële kwestie, soms om het goed kunnen afsluiten van een kwestie
• buiten kantoortijden bereikbaar
• een kostenbewuste praktijk met aantrekkelijk tarief
• inzetbaar via uw rechtsbijstandsverzekeraar
Voor de zakelijke markt
• een advocaat die bij uw bedrijf langskomt en zich in uw bedrijf verdiept
• een langdurige klantrelatie staat centraal
• u hoeft geen jurist in dienst te nemen, dus alleen juridische ondersteuning op maat en daarmee kostenbeperkend
• cursussen, juridische presentaties en audits mogelijk
• abonnementsvorm mogelijk
• periodieke inhuur op locatie mogelijk